After a full year of monthly reflections on what it means, for me, to be gentle towards myself, you might think this is a topic that I've exhausted. That I've written what's possible for me to write about. But far from it. I am, constantly, observing that I am being gentle towards myself, in situations where it greatly gladdens me, instances where I know – and I do mean Know – that in the past I would not have been able to chose gentleness, if nothing else than for the reason that I simply did not know it was an option!
Choosing to be gentle towards myself is becoming second nature. It is something that comes first, almost always, nowadays, and from that I conclude that I have practiced the art of being gentle for long enough, so it no longer takes as much effort to choose the path of gentleness, as compared to when I first realized that it was, indeed, a viable option for me – and anyone! – to choose.
I normally say the first big insight that it was even an option, was when I did not bring cash to pay my therapist, some 10-11 years ago. I was ashamed, and wildly kicking myself verbally, and she was astonished that I was so hard on myself. She told me what she'd done if the situation had been reversed, and my jaw fell. I simply could not believe it was an option not to beat myself up internally for having done such a low thing.
But as I sit here and look back at my journey of discovery into the world of gentleness, I spot the birth of my first child as one of those moments, when I was given the choice – by the midwife – to be more gentle to myself. Under slightly unusual circumstances – as me and my then-husband had separated and filed for divorce just a few weeks prior to the birth of our child – I was accompanied by two friends, while giving birth.
When we got to the hospital, I got into a warm bath, and after a while, the midwife looked at me and more or less gave me permission to keep my focus on me, rather than on the comfort of my friends. I was conversing them, staying cheerful and positive, all the while having contractions that hurt like hell… The midwife looked at me, and calmly said You don't have to entertain your friends. They can take care of themselves. You conserve your energy. You will need it later.
And now, as I reflect back on that moment, I see what I chose then, as I did heed the experienced midwife's words, was to be gentle to myself. To let myself off the hook to be a gracious "hostess" to my two friends. To truly see that they were there for me, because I had asked them, because I had a need for their strength. In that moment, they were there solely for me and my unborn child. Not the other way around.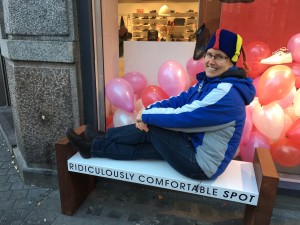 And that was ok. I could let myself off the hook, and relax into being supported, fully, without having to reciprocate, in that time and space. That there would be a time for me to be there, fully, for them. But that would not be the moment of birth of my firstborn. That's for sure.
Funny that… How I have these recollections of specific moments when I discovered that being gentle to myself was a choice I could make. That there was a choice, and that gentleness was one of the options open to me. As a result, it's much easier for me to love myself, to like myself, and to enjoy the daily exploration of Life. The life I lead from the place of being gentle to me, is a ridiculously comfortable spot to live from, as compared to my life while being harsh on myself (oh, so harsh!).