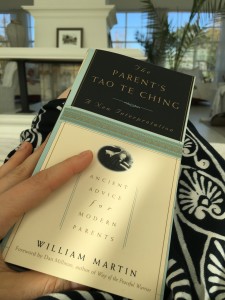 Sitting in the most serene and relaxing surroundings, ensconced on a day bed in the light filled relax room at the Ystad Salt Creek Spa, I pick up one of the books I brought with me. The parents Tao Te Ching, by William Martin. I'm at the spa, together with my eldest child, and am finally at exactly the right time and place for this book. And is it ever just right. The beauty. Simplicity. Gentle nudgings, in the form of questions or statements, making me nod, cringe, smile, rue past behavior, happily bring to mind moments of great connection… all of which is a part of my parenting. That, and so much more.
"Mature adults don't necessarily create children, but children help create mature adults." 
For me it is definitely due to my children that I have grown into the person I am today. Parenting, hard, tricky, filled with trap doors and hidden fears, made me go into therapy, ages ago. And since then, it's been a wonderful journey, walking the way of life (which, incidentally is one way to translate Tao). High's and low's abound, as well as shallow middle ground, getting through the days, one after the other.
"Making babies – having children – is a capacity bestowed by biology, but raising them well is an art we learn by doing."
I for one am definitely still in the learning by doing-phase of parenting, that's for certain.
#Blogg100 challenge in 2017 – post number 62 of 100.
The book "The parents Tao Te Ching" by William Martin.
English posts here, Swedish at herothecoach.com.