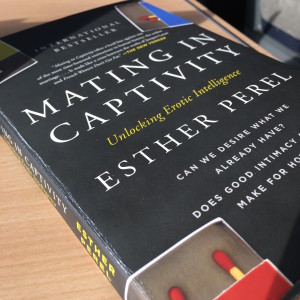 International bestseller is written on the cover Esther Perels first book Mating in captivity: Unlocking Erotic Intelligence, and I get why. It's a very interesting read, opening up loads of questions for me.
Given the dissolution of my (second) marriage, quite naturally I'm interested in relationships, breakup's, love and desire, and the wealth of topics – and experiences – related to this. In the midst of it all, Esther Perel turns up in my life, in podcasts (her own, Where should we begin?, as well as interviews on other shows), and in other forums.
"[…] when we trade passion for stability, are we not merely swapping one fantasy for another? As Stephen Mitchell points out, the fantasy of permanence may trump the fantasy of passion, but both are products of our imagination. We long for constancy, we may labor for it, but it is never guaranteed."
No. Constancy is not guaranteed.
I for one know all too well that it is not.
"Erotic intimacy is the revelation of our memories, wishes, fears, expectations, and struggles within a sexual relationship. When our innermost desires are revealed, and are met by our loved one with acceptance and validation, the shame dissolves. It is an experience of profound empowerment and self-affirmation for the heart, body and soul. When we can be present for both love and sex, we transcend the battleground of Puritanism and hedonism."
What opens up for me now, with a second divorce on my resumé… is there's definitely a battleground to transcend, oh yeah. There's so much for me to discover. Mostly about myself. About my body, my sexuality and sensuality and most certainly about my erotic intelligence. Trust me when I say, that's not a combination of words I've ever used before, never ever. About time perhaps?
"It takes courage to push yourself to places that you have never been before… to test your limits… to break through barriers. And the day came when the risk it took to remain tight inside the bud was more painful than the risk it took to blossom." – Anaïs Nin
The book I am blogging about is part of the book-reading challenge I've set for myself during 2018, to read and blog about 26 Swedish and 26 English books, one book every week, books that I already own.