In my daily Headspace meditation, this morning I heard Andy Puddicombe say, in the first out of thirty sessions on the topic of stress, that stress is wanting things to be different, from how they are right now. Little did I know that shortly thereafter I would get the perfect opportunity to practice this lesson.
Reacting. Or not. Falling into the abyss of a reactive emotion. Or not.
Anger. Irritation. Frustration.
I reacted. And fell. Deep and hard.
Made good use of the angry energy though, digging for hours on end in the front yard. But at a price.
And yeah, sure, I would have liked to have been a person, earlier today, who responded with grace and humility, rather than irritation and annoyance. I didn't though. And as I sit here reflecting, here my second training opportunity for the day arrives, served on a silver platter.
React. Or not? Fall into the abyss of a reactive emotion. Or not?
Shame. Regret. Self-contempt.
No. This time, I gently, but firmly, bid those emotions to leave by the door that I leave open for then. And as they make their way over there – slowly, going in circles, hoping I will let up and start to engage with them despite having bid them good bye – I take the opportunity instead to reflect with a gentle perspective upon the day. On the choices I made, and the consequences those choices led to. Accepting. Fully. The outcomes that serves me – having done a really good day's work in the front yard at the top of the list – as well as the ones that clearly doesn't serve me – relationships bruised by me falling into the abyss, dragging others down there with me in the fall.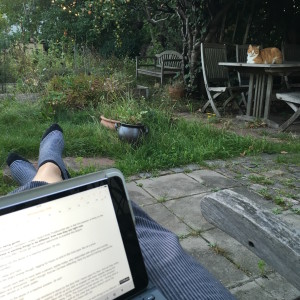 A stressful situation? Well. I guess that's the thing. It could be. But I don't choose to want things to be different, from how they are right now. Because what was, is past. And I cannot turn back time, and retrace my steps, making other choices that those I did. So no, I sit here, in the cooling summer evening, accepting what is. Accepting what was. The only thing I can do, is apologize for my behavior, and learn from the happenings of the day. When a similar situation arise in the future, I might be able to make a different choice from the get-go, one with fewer non-serving outcomes. Or not. Regardless, I chose to be gentle to me. Because the opposite, being harsh and judgmental towards myself, doesn't make life better for anyone.
This is what being gentle to me means in the month of August 2016. What does it mean to you?
First published on my blog on August 27th, 2016: https://helenaroth.com/being-gentle-to-me-reflection-august-16/
Website: https://helenaroth.com/
Instagram: https://instagram.com/helenaroth
FB: https://www.facebook.com/HelenaRothChangeAgent
Audio production: Caspian Almerud
Photography: Anders Roos http://www.andersroos.nu/
Soundtrack: Olof Jennfors Ljudtjänst http://jennforsljud.se/