I am no longer willing to let myself be used as the scapegoat. I am no longer willing to step up when others claim that my words, my deeds, my actions, are what angers them, what upsets them or what scares them. Because in truth, it is their reaction to my words, my deeds, my actions, that angers, upsets and scares them.
This never means I get to act like a brute, avoiding responsibility for my words, deeds and actions. That's on me.
What's on you, is to do the same. To own your reactions.
You might well be angered or upset, even scared. But own it.
Don't go here:
"You make me angry, upset, scared."
Or here:
"Your words, deeds, actions, make me angry, upset, scared."
Rather, try to find something like this place within:
"I felt angered, upset, scared by what happened within me when I came upon your words, deeds, actions."
When both of us own our reactions, progress is possible. Connection, understanding and respect is to be had.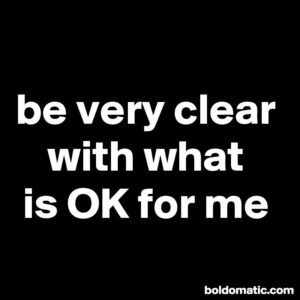 And I know, I cannot make you choose this. And it's not for me to tell you what to do, or not do.
What I can do though, are two things:
I can strive to live up to this ideal, myself.
And I can be very clear with what is OK for me. To not swallow it, to not take it, should you happen to put your shit on me.
And that latter one, is where I have an opportunity to improve. To learn how to live it, to actually be someone who doesn't take others' shit. The outcome of that might well be that I also choose to not be with you, simply because I get to choose my company. And as peer pressure is very real and we become like those closest to us, I honor me by being very specific and particular in choosing whom I spend time with. Because that choice will impact me, making me be more –or less– of the person I want to be in the world.
And there's nothing I want more than to surround myself with people who see and encourage the potential harbored within me, who positively challenge me to –always and already– be and become the better me.
---
#tankespjärn, for those who wish to discover. More. Other. New.