The bottom line:
Now and again letting myself fall head over heels in love with a great story, going with the flow of it, while simultaneously observing myself –picking up on what it is I like/dislike, what rubs me the right/wrong way, what I resist or want more of– is a gift. To me.
My two Buddhas have been encouraging me (that's a very kind way of describing their insistence!) longest of time, to watch Game of Thrones. I've resisted. Oh, how I've resisted. Not having access to HBO for one. Too busy, for another. Currently involved in something else, not wanting to take the time, oh but I've heard it's so filled with violence in many forms…
Excuses, excuses.
So on the 3rd I signed up for a two-week-trial period, and got down to it. Watched the first episode of the first season… and then I just kept going. On the 28th I watched the sixth and final episode of the eighth and final season.
For 26 days GoT has kept me company, and perhaps there's been one or two days of no GoT (except in my dreams… bingeing is an interesting way of populating dreams, with whatever I am bingeing on. Before giving up Pokémon Go, I've been PoGoing plenty in my dreams, just to give one example.), but more or less, this has been a daily companion for me for the past just-short-of-a-month.
A daily companion giving me the opportunity to make huge progress on my knitting; my GoT-knitting project which is what it turned into unwittingly. A poncho, accompanied by wrist-warmers. All of my own design, and an easy one at that, to ensure I could knit and watch at the same time. Had two lovely skeins of the most beautiful ruby-red lace woolen yarn, to turn into something. Knitted the first skein, all on the poncho, and then did two wrist-warmers before starting in on the poncho with the rest of the second skein. Have a third (or less?) of that last skein left, before the poncho is finished.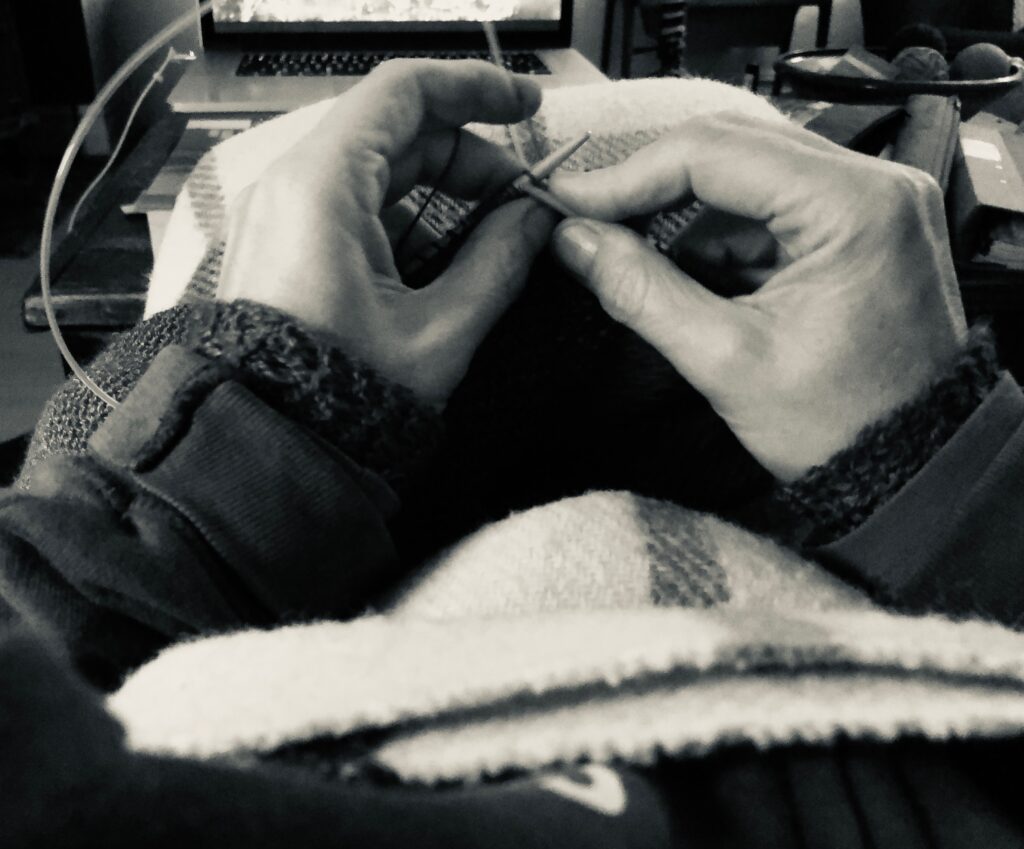 Keeping my Buddhas up-to-date on my progress, I've gotten a few priceless responses. One of my favorites is If there would be any money in bingeing, you'd be a millionaire. And this one, as I started on season five: That's 40 hours of series in what? 3 weeks? And they say us millenials are bingers only to have the other Buddha respond with Noobs. And no. I got to season five in 16 days. Just saying. Bingeing GoT even had my kids realize that this is a serious skill of mine, and one they've likely inherited (genetic or environmental? Forever the Question, is it not?) too.
(My noobs-commenting-Buddha clocked 1+ season a day in his GoT-haydays, a point he's keen to get across, making my 26 days seem like an eternity… Hence 'noobs'.)
I've truly enjoyed the process, letting myself get lost in a story, which is one reason why I love reading fiction (which is all I read up until I turned… 35 perhaps? Somewhere around there. Before that, the thicker the book, or the more books in a series I could find, the happier I was. Historical, or science fantasy, well-written, and I was hooked.). I've never gotten through George R. R. Martin's series though. I know I've started it. Once? Twice? Not thrice. Didn't take to it. Now – now I think I would definitely like to read it. I probably will.
Violent?
Heck yeah.
Lots of sex in the most weird and (supposedly) shamed ways?
Hell yeah.
That too.
And I truly like it. Love it even. All of it!
Well-developed characters.
Absolutely stunningly shot – the way they are working with visuals is simply amazing.
Not to mention the actors. Wow! Just witnessing the children of the Stark family growing up through the years of shooting the series is something special.
I truly appreciate the norm-breaking aspects to GoT. There's not a season that goes by without some serious tankespjärn being provided, served upon the finest silver platter, there for the taking. Having a dwarf play one of the main characters for instance. Being extremely human in the sense that he's a dwarf a n d a sexually practicing one at that. As human as anyone else. I love that! It also saddens me, because it makes it very apparent how seldom people who deviate from the norm (that friggin' norm, narrower and narrower by every year.) are visible in every-day-culture as humans, expressed in all their glorious messy humanness.
Another piece of tankespjärn for me is the roundedness of "the evil characters". Caricatured, sure, and yet, believable. Complex human beings, not one-dimensional. Picking up on this tells me it is not often so. That it's more common that characters are black-or-white, good or evil, seldom both-and. But we are. Both-and. There's good and evil in all of us. In the sense that sometimes, what I do or say, or don't do nor say, is of service. To me. To others. Sometimes definitely not of service, neither to me nor others. Stumbling along, in all our glorious messy humanness, the full spectrum is there. Emotions, sensations, experiences. We get to live it all. If we let ourselves. And a lot of the expressions within our popular cultural register lack this. One- or perhaps two-dimensionality is rife, and the multi-dimensional (not for a moment would I denigrate humanness to being no-more-than three-dimensional) lived reality of humanity more rare for sure.
As I watched the last episode of the last season, followed by the documentary made during the last season, a void opened up. What to do, when not watching a gazillion GoT-episodes every day?
Start to binge something else?
Write more?
Get to bed earlier?