"The immense diversity of imagined realities that Sapiens invented, and the resulting diversity of behavior patterns, are the main components of what we call 'cultures'. Once cultures appeared, they never ceased to change and develop, and these unstoppable alterations are what we call 'history'."
Caspian has been on my back for a long time about reading Sapiens A Brief History of Humankind by Yuval Noah Harari. And I've been meaning to, for a long time. So when the time came to pick books for the reading challenge of the year, giving one spot to Sapiens was an easy choice. However, I've been putting reading it off, until I had plenty of time, so from the beginning I had my mind set for a summer read. However, my summer has gone my in a flash, with all sorts of things booked, so I finally realized I just had to start. So I did. I even gave myself two weeks to read it, as I started it at the same time I read the Swedish book of last week, which was a fairly short read.
"[…] the average forager had wider, deeper and far mot varied knowledge of her immediate surroundings than most of her modern descendants. Today, most people in industrial societies don't need to know much about the natural world in order to survive. […] The human collective knows far more today that did the ancient bands. But at the individual level, ancient foragers were the most knowledgeable and skillful people in history."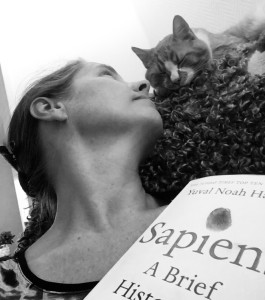 Still. With a few days to go, I wasn't even halfway, so I've been cramming it this weekend, let me tell you. Woke up this morning with 70% of the book read; approximately 120 pages to go. Not an impossible feat at all, even though I've been busy with work and other things all morning and well into the afternoon.
"How can we distinguish what is biologically determined from what people merely try to justify through biological myths? A good rule of thumb is 'Biology enables, culture forbids.' Biology is willing to tolerate a very wide spectrum of possibilities. It's culture that obliges people to realize some possibilities while forbidding others. […]
Culture tends to argue that it forbids only that which is unnatural. But from a biological perspective, nothing is unnatural. Whatever is possible is by definition also natural." 
And yes. It's now done; honest to god, I swear I'm not cheating, blogging about a book I've yet to actually finish. I did finish it, and I do recommend you read it. In 466 pages Yuval take me by the hand and walk me through the history of humankind, just as the title promises. Cramming in 70 000 years in 466 pages makes it brief, by default. Yet it's far from shallow. I wouldn't say that at all. No. Yuval both summarizes, and provides me with some startling new perspectives on the Cognitive, Agricultural, Scientific and Industrial Revolutions, each in turn.
"We study history not to know the future but to widen our horizons, to understand that our present situation is neither natural nor inevitable, and that we consequently have many more possibilities before us than we imagine. For example, studying how Europeans came to dominate Africa enables us to realize that there is nothing natural or inevitable about the racial hierarchy, and that the world might well be arranged differently."
Yuval looks to the history of humankind in Sapiens, while his next one, Homo Deus (sitting on the shelf, unread, possibly a part of a similar challenge for next year?) is aimed forward, as far as I've understood it. But Sapiens isn't solely a book that looks in the rearview mirror. He extrapolates, suggests, and fantasizes about what might be – and let me tell you, it might as well be heaven or hell, from what I understand. And the only way "to know", is for someone to look back, many many years from now, to document the history of what is, as yet, the future.
"Science can explain what exists in the world, how things work, and what might be in the future. By definition, it has no pretensions to knowing what should be in the future. Only religions and ideologies seek to answer such questions."
Caspian.
I am with you.
We could have a field day talking about this book, so yes, let's record a pod about it soon, ok?
"[…] we are witnessing the formation of a global empire. Like previous empires, this one, too, enforces peace within its borders. And since its borders cover the entire globe, the World Empire effectively enforces world peace."
---
The book I am blogging about is part of the book-reading challenge I've set for myself during 2018, to read and blog about 26 Swedish and 26 English books, one book every week, books that I already own.