The so-called Migration crisis in 2015 caused too many countries, Sweden amongst them (much to my sorrow), to effectively shut their borders to refugees and asylum seekers. Countries close to these war-stricken countries have taken in so many more refugees than we could even come close to harboring.
In Lebanon one out of three is a refugee. One in three. Lebanon alone have taken in more Syrian refugees than all of Europe combined. All. of Europe. Combined. Can you imagine?
It saddens me beyond belief that Sweden, and too many other countries, are shutting people out, as well as denying asylum seekers a chance to settle down in a country not plagues by war, famine, poverty and apartheid (look into the situation for hazara in Afghanistan and the surrounding countries) that this is what it's come to, and Sam explains why in but a few words: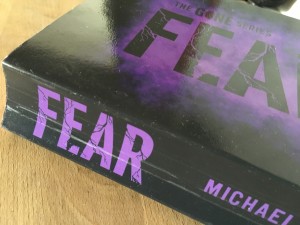 "'We have kids who've come here from Perdido Beach. They've lost people on the way here, and we're going to take them in and care for them.' 
Some grumbling and a couple of defiant, shouted questions came out of the dark. 
'Because good people help people who need to be helped. That's why,' Sam yelled back."
Good people help people who need to be helped.
That's why.
And we aren't helping.
Not enough, by far, with more than 65 million people forcibly displaced worldwide, according to UNHCR statistics.

Inspired to continue blogging on the theme from the #blogg100-challenge in 2017 I give you:
The book "FEAR" (number 5 in the GONE series) by Michael Grant.